Water Damage Restoration Experts Since 1989 Schedule Now!
Water Damage in Retail Stores
Do you have flooding at your retail shop or big-box store in the Los Angeles area?  For anything more than a few gallons, leaving cleanup to your staff leaves you open to some big risks — everything from mold to structural damage.  And that won't be covered by insurance if it was preventable by taking the right steps.  To prevent water damage in retail stores you need our professional water damage removal services.  Immediate and proper action avoids secondary damage, recovers more items, and delivers the soonest return to full operations or re-opening.  We're ready 24 hours a day for water damage restoration, mold remediation, and sewage cleanup services.  Regal brings the latest in equipment and some 30 years of experience to the table, and we can be there in just 30 minutes.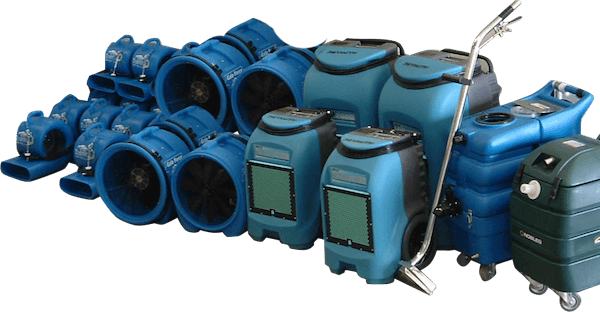 How Bad Could It Be?
Minor leaks can seem like a nuisance and with an overflowing toilet everyone's inclined to go for just a quick mop-up to get right back to a busy day.  But IICRC guidelines say that anything more than several square feet of soaked flooring calls for for professional drying, cleaning, and sanitizing services.  Why so?  Water quickly reaches into the sub-floor and even makes its way upwards inside walls, soaking in deeply.  There it can linger for weeks.  Yet in just a few days  it can lead to mold, destroy drywall, warp wood, and cause other damage.
With major flooding water damage in retail stores becomes a huge issue.  That could be from storm flooding, a burst pipe or faulty sprinkler system, or a sewage backup.  Some 30% of all property claims for insurance are for water damage restoration, including losses of inventory, equipment, furnishings, and store fixtures.  Without immediate drying, dehumidification, and other treatments secondary damage adds to costs and repair time, often requiring a complete shut down.  And lost customers may never return.
NOTE:  It's always tempting to rush into a flooded area to move stock and other valuables to higher ground.  But first make sure that electricity is turned off to remove the risks of electrocution.  And remember that Regal's experts can be there in half an hour.

Our Water Damage Restoration Services
Our experts and special equipment provide the fastest recovery while reducing the overall costs of water damage restoration, often with little or no disruption of unaffected areas.  Our services for dealing with water damage in retail stores include drying and dehumidification, mold remediation, sewage cleanup, and odor removal.  Along with the building itself we can take care of carpet and upholstery cleaning (or replacement), and more.  Our services typically move along the following lines, turning weeks of dampness into just a few days.
Inspection by a certified technician, establishing priorities, goals, tasks, and schedules.
Flood Damage Cleanup such as relocation or pack out of building contents, debris removal, sanitation, and initial cleaning.
Water Extraction from floors, walls, and ceilings with truck-mounted vacuum systems far beyond those of carpet cleaners.
Building Structural Dry Out using combinations of dehumidifiers, dryers, and high-capacity air movers.
Odor Removal with state of the art equipment that reaches beyond surfaces and into the building itself.
Contents Drying and Cleaning for carpet, upholstery, hard-surface items, and more.
We monitor and maintain proper temperature, humidity, and moisture levels throughout the process to assure fast and complete drying.
Mold Remediation
Faulty ventilation, ignoring a leak, or delays in water damage cleanup usually lead to a need for mold remediation.  Often in as little as 24 hours.  More than appearance issues, its health hazards pose a liability to employees and customers alike.  And the further it spreads the more drywall and other materials there are that must be replaced.  Our licensed mold removal specialists will isolate the affected area from the remainder of your retail store, complete absolutely thorough mold cleanup, then decontaminate surrounding areas and apply non-toxic anti-fungals.  They're also experts in neutralizing odors so you won't be left with any musty smells.
Sewage Cleanup
A sewage backup is clearly a big health and sanitation issue, but so is natural disaster flood water as well as any wetness that's been around for a day or more.  They're all IICRC Category 3, demanding extreme cleaning and disinfection procedures.  That requires a great deal of training to do properly and safely.  Let our sewage cleanup crews and certified microbial remediation technicians handle all the unpleasant and challenging tasks necessary with waste transportation and disposal meeting all regulations.  We'll also provide thorough cleaning and odor neutralization.
About Regal Restoration Masters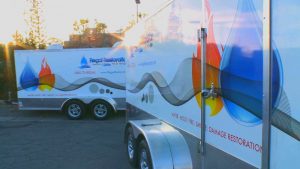 Few water damage restoration companies serving Los Angeles and surrounding areas can match our combination of decades of experience, highly trained certified technicians, state of the art equipment, and 30-minute on-time arrivals.  We're ready for anything, from dealing with a plumbing leak to natural disaster restoration 24 hours a day every day of the year.
Over the years we've seen just about every kind of water damage in retail stores, and dealt with it to restore the facility to pre-loss clean, safe, and healthy conditions.  Regal accepts all insurance companies, and will bill them directly.  We'll work with them to meet their mitigation and documentation requirements for coverage, saving you even more time and distraction.  We're a single company that simplify your job a bit by taking care of all of the numerous recovery tasks.