30 Years Of Experience. 30 Minute Response Time!
Professional Water Damage Restoration West Hills, California
Has your West Hills home or business just experienced some sort of spill, overflow, or water intrusion?  Even a small amount of water can quickly soak deeply into the building and cause progressive deterioration over the weeks to come.  That's often hidden from view, so you want someone with all the right experience to assess the situation, take care of existing damage, and prevent ongoing problems.  We're West Hills' experts when it comes to flood damage and water damage restoration, including mold remediation and sewage backup cleaning.  Our crews are ready 24 hours a day 365 days a year and can be there in just 30 minutes.
Regal Restoration Masters, Simi Valley's Choice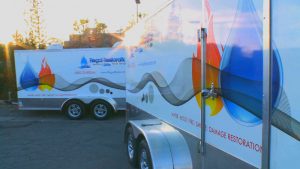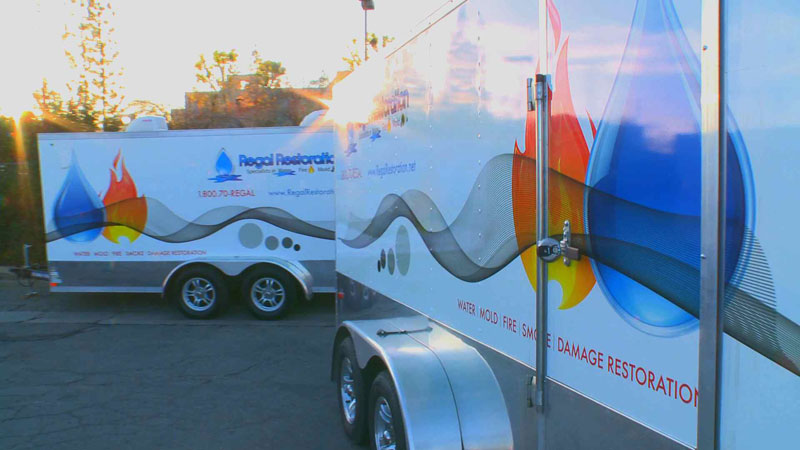 Independently owned and operated we're a full-service water restoration contractor, fully licensed and insured for residential and commercial work in West Hills.  Armed with the latest equipment our water damage specialists are certified in a broad range of cleaning and restoration specialties  Regal accepts all insurance carriers.  We'll bill them directly and work with them closely so there's no need for you to be involved in the time consuming and sometimes frustrating loop.  Our staff our expert in dealing with the special mitigation and documentation requirements involved in flood damage and mold restoration insurance claims.
Flood Damage Restoration
Anytime there's enough water to soak through flooring, wick up walls, or make its way into the building structure should count as flooding.  We follow the latest ANSI/IICRC standards and guidelines (http://www.iicrc.org/feb-2016-standards-update-a-456.html) in assessing your situation and determining the best course of action.  That could range from cleaning and conventional drying when only a small area of wet carpet is involved (IICRC "Class" 1) on to advanced whole-building drying methods (Class 4).
The source of water is also important.  IICRC "Category" 1 comes directly from plumbing and so has minimal sanitation concerns for the first 24 hours.  Category 2 comes from sources such as dishwasher and clothes washer drainage, and is assumed to include germs and viruses.  Any ground water source falls under Category 3 and will be filled with soil bacteria, fungi, and viruses.  So it requires worker personal protection equipment, extra-thorough cleaning, and additional disinfection measures.
Whatever the degree and type of flooding we'll take all the proper steps for mitigation, cleaning, disinfection, and restoration.
Water Damage Restoration in West Hills
Water can make its way deeply into a building's inner structure in just minutes, but once there the natural rate of evaporation in West Hills will take weeks to bring that deep dampness back down to safe levels.  Ventilation alone doesn't help much.  During all that time a host of problems can, and usually do, occur.  Bacteria and mold growth get out of control, wood swells and warps, plaster and drywall disintegrate.
So our focus is on mitigation to keep water damage repairs at a minimum.  Our typical process incorporates the following often overlapping stages.
Inspection and restoration planning
Water removal
Emergency cleaning and disinfecting
Removal, cleaning, and drying of carpets, rugs, furniture, and other contents
High-performance vacuuming for surface water extraction from floors and walls
Advanced dehumidification for complete structural dry out
Final cleaning, debris removal, and haul away
Ozone treatment for complete odor removal throughout the building
All along the way we'll frequently monitor the moisture content of building materials (not just indoor air humidity) to assure that everything's proceeding according to plan.
West Hills Mold Removal
Mold is nothing to be taken lightly.  All varieties release allergens and other contaminants that degrade indoor air quality and may lead to serious illnesses.  Plus many species, not just black mold, release toxins that can even be life threatening with prolonged exposure.  Children and seniors are especially vulnerable.  When disturbed mold spreads easily by invisible spores that float on the air, and it's just plain hard to get rid of.  So it's not surprising that the EPA urges professional mold remediation services such as ours for all but the smallest of problems.
Our licensed specialists begin with a visual inspection of your West Hills home or business along with any air and surface testing needed.  Following ANSI/IICRC S520 (http://www.iicrc.org/standards/iicrc-s520/) we'll first isolate and ventilate the work area to prevent the spread of spores and contaminants.  Then we'll thoroughly remove spores and mold using a variety of methods, often involving special equipment such as HEPA vacuums.  It's also necessary to replace any porous materials that have been infested, or encapsulate those that can't be removed.  Our complete service further reduces the odds of regrowth anywhere in the building through eco-friendly anti-microbial treatments, basement drying, crawlspace cleaning and drying, carpet cleaning, and air duct cleaning.  We'll also remove those musty odors.
Sewage Cleanup
A sewage backup clearly needs to be taken care of immediately with special precautions against disease organisms.  Those pathogens easily become airborne so our certified microbial remediation technicians set up isolation and exhaust systems before we proceed with sewage extraction.  Our sewage cleanup and disinfection work leaves the area immaculate and hygienic and your home or business odor-free.
West Hills Safety
The neighborhood of West Hills is a wonderful place to live or work.  Did you know that the area experiences far fewer incidents of extreme weather (roughly on the order half) than most other parts of Southern California.  According to data from usa.com the earthquake risk is about the same, but there were "only" 132 floods and 30 wildfires within 50 miles of of West Hills for the 60-year period ending in 2010.  But it remains important to be prepared for local disasters as well as prevent building emergencies through diligent maintenance.