30 Years Of Experience. 30 Minute Response Time!
Water Damage Restoration in Santa Clarita, California
Just experienced flooding in your Santa Clarita home or business?  Anything larger than a few square feet of soaked flooring calls for professional attention to prevent further destruction.  Regal provides exceptional-quality water damage restoration services, including mold remediation and sewage cleanup.  Our flood damage specialists are available 24 hours a day and can be anywhere in Santa Clarita in just 30 minutes for emergency services.
About Water Damage
Immediate attention is necessary to keep secondary damage and health hazards from getting out of hand.  In just minutes water soaks through flooring and into the sub-floor, and even wicks upwards inside walls and into structural elements.  Once there a natural rate of evaporation can take weeks to bring moisture down to safe levels, even in Santa Clarita summers.  But mold, crumbling drywall, and warping wood can get going in a single day.
We follow the ANSI/IICRC S500 Standard and Reference Guide (https://www.iicrc.org/standards/iicrc-s500/) in choosing our procedures and checklists to get everything dry and sanitary in just a few days.  The guidelines' framework is a set of categories based on the degree of biohazard and a set of classes based on the amount of water.
Categories of Contamination
Clean sources come directly from potable water plumbing.  But after standing 24 hours or more it should be treated as Class 2.
"Gray" water comes from sources with some level of bacteria and viruses, such as washing machines and showers.
"Black" water includes sewage backups and is highly unsanitary.  Category 3 also includes any water that has been in contact with the ground with soil bacteria, viruses, and fungi.
IICRC Classes of Flooding
With at most a few square feet of wet carpet and only part of a single room affected surface drying may be sufficient in some
With one or more rooms soaked, enough water has reached sub-flooring and soaked into walls as much as foot above the flooding level so that structural drying is also required.
With flooring and the lower parts of walls saturated, aggressive building structural dry out is necessary.
With stone, hardwood, or other less-porous materials also saturated even more advanced drying procedures are needed.
Our Water Damage Restoration Services
As a Santa Clarita flood damage restoration leader we provide a full line of professional drying, cleaning, and restoration services.  We begin with inspection and measurements, creating a detailed plan of activities and goals.  Frequent monitoring of results keeps everything on track and on schedule, with full drying typically accomplished in 3 to 4 days.
Flood Damage Severe flooding brings both sanitation and flood damage repair concerns to the forefront.  Our crews will take care of any needed pump out and debris removal followed by specialist cleaning and disinfecting.
Surface Drying High-performance vacuum water extraction from walls and ceilings as well as flooring immediately lowers humidity and the associated risk to furniture and other possessions, and speeds overall dry out by a day or more.
Building Structural Dry Out For structural drying we quickly bring deep-down moisture back to safe levels with a combination of refrigerant dehumidifiers, commercial blowers, and other drying equipment.
Flood Damage Restoration Our crews can also clean, disinfect, complete repairs, and deodorize the entire building.  Certified cleaning and restoration specialists will attend to building contents such as carpet and upholstered furniture, rescuing as many possessions as possible.
Our Additional Santa Clarita Services
Several situation require more than the main sequence of drying, cleaning, and repairs.  Most notable are mold remediation and the extreme precautions associated with sewage extraction.
Mold Removal Risks abound for mold remediation, including spreading toxic contamination and the mold itself.  Following IICRC S520 (as well as OSHA regulations and EPA guidelines) we protect our workers, unaffected areas of the building, and your family or employees by first isolating the work area and setting up air scrubbers and special exhaust systems.  We accomplish thorough mold removal with approved techniques then proceed with additional decontamination, abatement, and odor removal.
Sewage Removal A sewage backup or even a toilet overflow with feces is far from a minor matter.  Disease organisms become airborne so worker protection and immediate containment and isolation are critical.  Sewage cleanup must be immaculate and disinfection absolutely thorough, including sterilization or disposal of everything that's been in direct contact with contamination.  Regulations applicable in Santa Clarita even specify proper transportation and disposal procedures.
Commercial Services
Our years of experience include water damage restoration for a variety of commercial building occupancies such as hotels and motels, restaurants, retail shops, health care facilities, and places of worship.  Recognizing how vital it is to re-open as quickly as possible we serve Santa Clarita businesses 24 hours a day with prompt arrival and expert services to prevent further deterioration, and work to a schedule you can count on.
Choose Regal Restoration Masters in Santa Clarita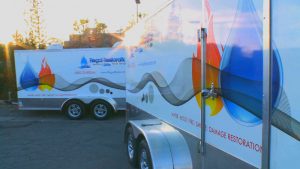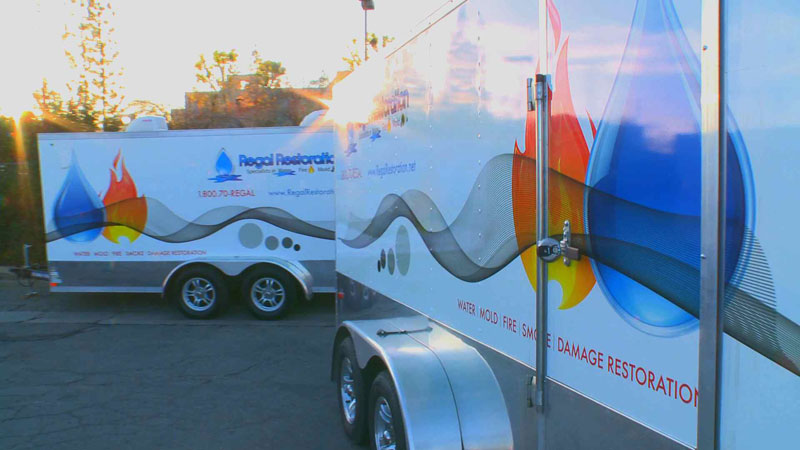 Located nearby, we bring 30 years of experience to your Santa Clarita doorstep in just 30 minutes.  In business since 1989 we're fully licensed and insured to meet your residential and commercial water damage restoration needs.  Our technicians are certified in a wide range of specialties, and have state of the art drying, cleaning, disinfecting, and odor neutralizing equipment.  All are ready 24 hours of the day, 365 days of the year.
We accept all insurance companies, and will work with them directly to save you time and hassle during your busy and difficult period.  That includes billing them directly and providing all the requested documentation in a timely manner for swift and smooth claims processing.  We'll also make sure that their mitigation requirements are met so that should any secondary damage occur it qualifies for coverage.
Santa Clarita Flood and Fire Preparation
With both your current catastrophe and the January 2016 Santa Clarita mudflow evacuations fresh in your mind it's a good time to become better prepared for the future.  The city has helpful information at http://santaclaritaguide.com/SoCalDisaster.html, including a monthly schedule that breaks a possibly large project down to more manageable pieces.  But we suggest doing most of your storm and flood preparation before the rainy season rather than in January as their schedule suggests!