Church Water Damage Restoration Experts Since 1989
Schedule Now!
Church Water Damage
Has your church or place of worship just suffered a plumbing breakdown, or worse still a flood?  It's upsetting to everyone when a spiritual home and emotional refuge is harmed so in all likelihood you'll have no trouble finding volunteers ready to help.  But in the time it takes to get the word out and everyone gathered a  the building and its contents could have already suffered further preventable damage.  Our experts in church water damage can be there in just 30 minutes, anytime 24/7.  They bring along specialized equipment together with years of training and experience for some rather technical water damage restoration services, including mold removal and sewage extraction in Los Angeles.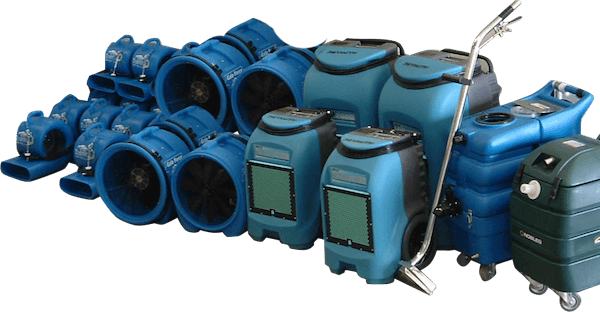 Important Things to Know
No matter whether storm, roof or plumbing leakage, or sewage backup the first 24 hours are the most critical.  You'll need far more than mopping up because water quickly makes its way deeply into the structure leading to mold growth and damaging wood and just about any porous material.  Without specialized services it will linger for many weeks causing continued deterioration all the while.  Particularly for older churches, the quality of materials and workmanship is simply no longer available, so let our restoration professionals preserve progressive deterioration and restore your church, temple, synagogue, or masque or other place of worship.  We bring some 30 years in the business, certified field technicians, and the latest state of the art equipment.
Aftermath cleanup begins with keeping safe, so turning off electricity, gas, and water supplies to the affected areas are the first steps.  For minor incidents without sewage contamination you can then proceed with getting items off a wet floor or moving them completely from the damp environment.  But keep in mind that improper handling can make cleaning and restoration more difficult.  And any sewage, long-standing water, or mold remediation poses very serious health problems.  The leading international non-profit IICRC (Institute of Inspection, Cleaning, and Restoration Certification) as well as numerous United States agencies urge bringing in licensed professionals to assure health and safety as well as to minimize further losses and recover as much as possible.

Professional Water Damage Restoration
With immediate professional measures it's often possible to save carpeting through water extraction, cleaning, and rapid drying.  Our water and flood damage restoration typically progresses in the following phases.
Identifying and removing the source.
Assessing damage and organizing a recovery work plan.
Mitigating against further damage via thorough extraction, dehumidification, structural dry out.
Debris removal and cleaning.
Disinfection and odor removal.
Repairs and reconstruction.
Insurance Issues
We hope you're insured against flooding damage and other water-related damage.  Our premium work at economical rates will certainly help with deductibles and uncovered losses.  We accept all insurance companies, and will bill them directly to ease the burden on your cash flow.  All of Regal's services include detailed documentation and the proper mitigation steps for a swift and smooth claims process.
Regal's Church Water Damage Restoration Services
We'll restore your church property as well as the building itself with exceptional flood damage restoration services.
  Inspection and Assessment
Our certified inspectors will assess all damage and special conditions and develop a plan with specific goals and milestones for water damage cleanup and drying.  Wherever there's sewage cleanup or natural flooding cleanup decontamination and sanitation take priority over debris removal.
  Water Extraction and Dehumidification
Water soaks deeply into the structure, and humidity alone can damage ceiling, wall, and flooring surfaces… and beyond to where you can't even see.  Left to natural evaporation you're likely to experience weeks of dampness, problems with mold, and progressive damage.  Our experts and advanced equipment cuts that down to just a few days, often leaving things ready for your congregation the next weekend.
Exceptionally thorough water extraction using truck-mounted vacuums with performance way beyond carpet cleaners.  And it's designed for all building surfaces, not just floors.
Complete structural dry out using refrigerant dehumidifier, unique dryers, and powerful air movers.
Water Damage Cleaning
Extensive training is needed to choose and apply the right commercial-grade cleansers and procedures for each situation.  At Regal we understand your concerns go beyond the building.  Many water damage restoration companies are ready for rug and carpet cleaning along with upholstery cleaning.  We go beyond that, with experience that includes properly dealing with altars, artwork, drapery and fabrics, electronics, historical documents, pews and seating, wood and upholstered furniture, and more.
  Disinfection
IICRC guidelines put sewage backups, ground-water flooding, and any water lingering after 24-48 hours as "Category 3" biohazards (www.iicrc.org).  Our anti-microbial specialists will make sure that everything's handled properly with full personal protection equipment, containment and isolation of affected areas, incredibly thorough cleaning and disinfection, and finally proper haul away and disposal of hazardous wastes.
  Mold Remediation
Similar concerns apply to mold removal.  Not needing light to grow, mold is actually more of a problem with newer tighter-construction buildings.  But older places of worship with stone work, basements, and crawl spaces have their own special problems.  Due to potentially very serious  health hazards the EPA urges licensed mold remediation services for any problems larger than around a 3 by 3 foot area (https://www.epa.gov/mold/mold-cleanup-your-home).  Our in-house crew will perform visual inspection and testing, isolate the area, complete thorough spore and mold removal, and then decontaminate with air-scrubbers, direct cleaning, and non-toxic mildicides.
  Odor Removal
Often surface cleaning isn't enough.  Mold, bacteria, smoke, and decay can reach deeply into the structure itself.  Our advanced equipment, such as ozone generators, can reach into those locations and neutralize just about any smell.  That means safely breaking down odorous compounds, not merely masking them with a fragrance and hoping they go away before the fragrance does.
  Repair and Reconstruction
Except for very minor flooding with little or no soaked flooring (IICRC Class 1) you'll likely need repairs such as replacing flooring and drywall affected by water or mold.  With more extensive flood damage major reconstruction may be needed to restore your church property.  Our skilled crews are ready to take care of those as well.
More About Regal Restoration Masters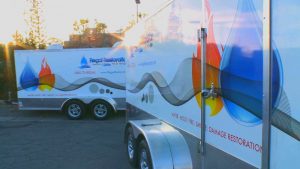 We combine 30 years of experience and expertise with the latest in technology to restore churches and other places of worship to pre-loss condition as quickly and inexpensively as possible.  Our certified microbial, cleaning and water damage restoration specialists follow IICRC S500 procedures in all of our disaster restoration services, and of course we're fully licensed and insured.  We can complete even building structural dry out within a week, and keep unaffected areas safe for occupancy during our work.  And our on-call crews can be there in just 30 minutes to keep damage and its costs to an absolute minimum.