30 Years Of Experience. 30 Minute Response Time!
Water and Flood Damage Restoration West Covina, California
Whether El Nino flood damage or a burst washing machine hose, disasters strike at any time.  So we're ready 24 hour a day 365 days of the year with professional emergency water damage restoration services in West Covina, California.  With decades of experience our certified teams armed with cutting-edge equipment can be at your home or business location in West Covina within 30 minutes for mold remediation, sewage cleanup, and water damage repair.  Accepting all insurance companies, our rapid drying blocks further deterioration and gets everything back to pre-loss condition all the sooner.
Water Damage Restoration
The amount of water and how long it remains are the biggest factors in determining the extent of water damage repairs necessary.  But it doesn't take as much as most people in West Covina think.  Following IICRC guidelines (www.iicrc.org), just a few gallons soaks through flooring and into the structure itself where it can take weeks to evaporate.  But in as little as 24 hours even high moisture usually leads to mold, and given time decay.  With an entire room soaked (Class 2) water even wicks upwards in walls destroying drywall and causing still more hidden deterioration.
So immediate and thorough water restoration is critical.  Beginning with an expert assessment we'll dry and dehumidify everything within days, not weeks.  That means using our exceptionally effective water extraction gear for surface drying of floors, walls, and ceilings.  We'll then deploy the right mix of commercial-grade dehumidifiers, specialized air movers, and other drying equipment for a complete structural dry out.  Meanwhile our technicians will be attending to cleaning and deodorizing rugs, carpets, upholstery, and other contents as well as the building itself.
Sewage Backups
Sewage cleanup also falls under IICRC Category 3, but clearly requires even more extreme worker protection and one of our certified antimicrobial technicians to assure absolutely thorough cleaning and disinfection.  After sewage removal, any porous materials that have been directly in contact must also be removed and either heat sterilized or discarded.  We abide by all regulations regarding sewage extraction and its proper transportation and disposal in West Covina.  With nothing left for you to deal with, we'll leave your home or building odor-free and spotlessly clean.
Flood Damage
Flood damage restoration also involves special attention to sanitation.  Any water is likely to become a health hazard after a day or so in mild West Covina temperatures, and "gray" water (IICRC Category 2) requires disinfection and extra cleaning procedures from the very start.  Whether in a wet entrance area or a basement flood, any source that's been in contact with the ground (Category 3) must be treated as highly unsanitary.  Its proper cleanup includes worker protection and isolating unaffected areas (germs easily become airborne) as well as diligent sanitation with commercial-strength disinfectants.
Mold Removal
Mold poses a range of health risks, from allergies to potentially life threatening conditions.  And unfortunately any fuzzy blobs you see may not be telling the whole story.  First, black mold isn't the only toxic variety.  Second, not needing light to grow you could have a big problem that you can't even see.  So if there's any suspicions give us a call for a professional assessment.  As necessary our licensed mold remediation team can take care of it.  We'll isolate the area to prevent the spread of spores and contamination, then provide thorough spore and mold removal.  Non-toxic mildicides further guard against re-growth and we can decontaminate surrounding areas with air duct and carpet cleaning.  We also have odor removal equipment to neutralize any lingering musty smells.
Choose Regal Restoration Masters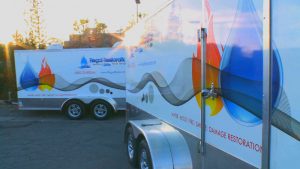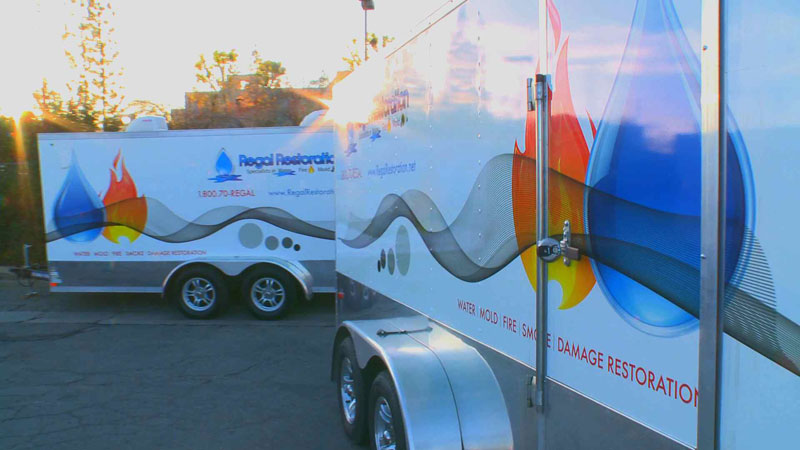 Where else will you find the combination of 30 years experience with advanced state of the art technology?
Our crews include technicians certified in the many areas of cleaning, water damage restoration, and mold remediation you might need.  And we back them with industry-unique equipment such as water extractors, refrigerant dehumidifiers, HEPA air filters, HEPA air scrubbers, air movers, and ozone generators.
Our knowledgeable staff will work directly with your insurance company, whoever that might be.  That saves you stress and distraction, and we know exactly what mitigation measures and documentation are needed for a smooth and swift claims process.
We're on call 24/7/365 for a prompt 30-minute arrival in West Covina to minimize further deterioration and leave your home or business safe, clean, and odor-free as quickly as  possible.
Commercial Water Damage Restoration Services
Our crews have the training, experience, and equipment needed to tackle even the largest commercial projects and get you back up and running quickly with minimal losses.  In many cases we're able to contain and isolate affected areas so that you can remain in partial operation.  We're ready for immediate emergency services at West Covina area churches, hotels, restaurants, retail stores, and other commercial properties.  Following ANSI/IICRC S500 and S520, we're even ready to help you prepare for restaurant re-inspections and hospital certifications for occupancy.