30 Years Of Experience. 30 Minute Response Time!
Water and Flood Damage Restoration Pasadena, California
Natural flooding is rare in the Pasadena, California area, but even plumbing problems often call for expert water damage restoration.  Have more than a few square feet of wet carpet?  Then you need our professional drying to prevent often hidden progressive damage.  Delays of as little as a single day often lead to the need for our mold remediation services and water damage repairs to wood, drywall, and more.  If you're dealing with a sewage backup our sanitation specialists are ready to keep everyone safe and healthy.
Our emergency services in Pasadena are available 24 hours a day, every day of the year, to quickly restore your home or business to pre-loss conditions.
Regal Restoration Masters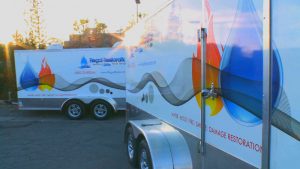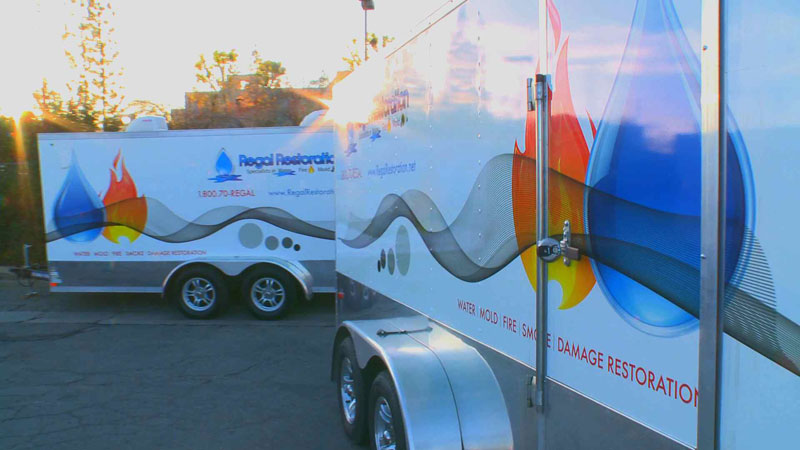 Fully licensed and insured we've been in business for nearly 30 years, serving Pasadena and beyond with a winning combination of technical expertise, cutting-edge equipment, and outstanding customer service.
Independently owned and operated we have what it takes to tackle everything from a residential washing machine problem to a large and complex commercial flooding situation.  Our water damage specialists are certified technicians in a broad range of specialties including cleaning, drying, disinfecting, and water damage repair.  And they have the latest in equipment for water extraction, structural drying, mold removal, and odor removal.  With quick and efficient mitigation work Regal's crews recover and restore whatever's possible, and can repair and restore the rest.
Our staff has extensive knowledge and experience in dealing with insurance claims.  We accept all insurers, and will work with them directly to keep paperwork and processing going as quickly and smoothly as possible.  We'll bill them directly, saving you an up-front payment, and can even help with your deductible.
Our Pasadena Water Damage Restoration Services
It doesn't take a large amount of water to cause destruction and the need for water damage restoration.  By IICRC guidelines (https://www.iicrc.org/consumers/care/water-damage/), with anything affecting more than a small part of a single room enough water will have soaked into sub-flooring, wicked up into walls, and made it to the inner structure to require aggressive trying procedures.  Otherwise damage such as warping wood and crumbling sheetrock that begins in as little as a day can go on for weeks, even in warm Pasadena weather.
So our water damage restoration focuses on prevention, as required by insurance companies to minimize further losses.
Flood Damage Restoration Storm flooding is a ground water source, categorized by the IICRC as highly unsanitary.  So beyond pump-out and debris removal careful cleaning and disinfecting are part of our flood recovery services.
Water Extraction We'll use high performance water extraction vacuums on floor, wall, and ceiling surfaces to dry those materials and reduce indoor humidity.
Structural Drying To thoroughly remove all excess moisture we deploy arrays of refrigerant dehumidifiers, commercial blowers, and other specialized drying equipment.  With frequent moisture measurements we'll make sure that structural dry out is proceeding as quickly as possible.
Repair and Reconstruction Finally, our crews can take care of repairs such as replacing drywall.
In addition to the building itself, our certified cleaning and water damage restoration technicians will take care of rug and upholstery cleaning along with carpet cleaning and replacement to leave each room looking and smelling like new.
Sewage Cleanup
Any sewage backup, large or small, requires extensive training to handle properly.  The job takes far more than just sewage removal.  Wearing personal protective equipment our technicians contain the problem and isolate unaffected areas to prevent the spread of airborne germs.  After sewage, cleaning and disinfection must be immaculate to address everywhere contaminated water might have reached.  Materials in direct contact must be heat sterilized (or discarded if that's not possible), and regulations in Pasadena include proper transportation and disposal of all wastes.
Mold Remediation
Whether after flooding, a roof or plumbing leak, or just poor ventilation the prospect of mold removal must be taken seriously.  Not needing light to grow, there's often far more mold causing health problems and building damage than is visible.  So our Pasadena licensed mold removal team begins with testing and a thorough inspection.  Mold remediation begins with isolating the working area with plastic sheeting, air scrubbers, and exhaust fans followed by actual decontamination with thorough mold and spore removal.  That may include removing porous building materials, carpet cleaning, and air duct cleaning.  We'll apply non-toxic mildicides and neutralize odors as well.  And all along we'll create any documentation needed for insurance purposes.
Commercial Water Damage Restoration Services
We're also fully equipped to handle flood damage restoration for commercial buildings with an arsenal of equipment and highly-trained manpower.  That includes antimicrobial technicians intimately familiar with occupancy certifications for health care facilities and health inspections for restaurants.  Our extensive experience includes churches, hospitals, hotels, restaurants, and retail stores among others.