30 Years Of Experience. 30 Minute Response Time!
Water Damage Restoration in Thousand Oaks, California
Looking for a solution to your water damage or mold crisis?  We can be at your Thousand Oaks, California location in just 30 minutes with emergency services 24 hours a day, 7 days a week.  Immediate action is necessary to prevent further deterioration (that won't be covered by insurance because it was preventable) and further exposure of your family or employees to health hazards.
Regal Restoration Masters, Simi Valley's Choice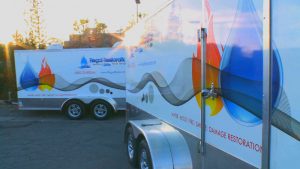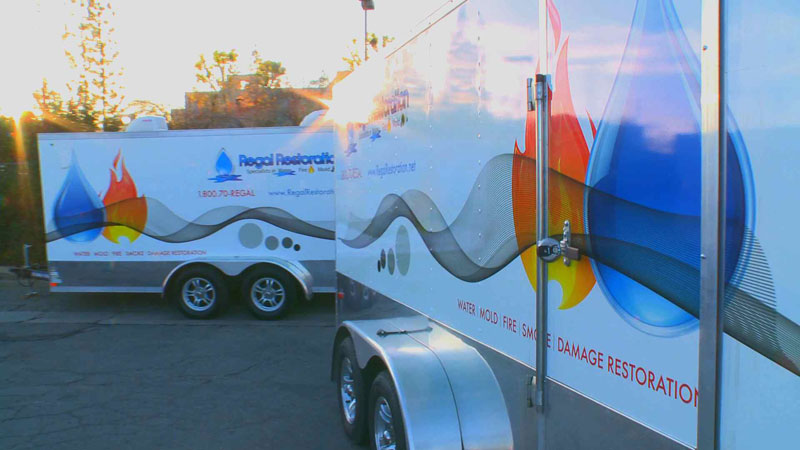 We've been providing outstanding water restoration services since 1989 — that's nearly three decades.  Locally owned and operated, we're fully licensed and insured for projects in Thousand Oaks and beyond.  Our water damage specialists will take care of whatever your home or business needs with top-quality work at competitive rates.  That includes the building, furniture, carpets, rugs, upholstery and more.  We're ready to roll 24/365 to arrive in just 1/2 hour to stop progressive destruction and put your mind at ease.
We adhere to IICRC standards and guidelines (http://www.iicrc.org/standards/) with certified technicians in all areas of water damage restoration and mold remediation.  And we back them with state of the art equipment and technology, including refrigerant dehumidifiers, commercial grade blowers, HEPA filters and vacuums, and professional moisture meters.
We'll bill your insurance company directly, and will work closely with them to assure that their documentation and secondary damage mitigation requirements for coverage are met. We're experts in the special needs and conditions concerning mold and flood damage, saving you time and trouble.  You'll rest a bit more comfortably knowing that everything's being taken care of properly.
Water Damage Restoration in Thousand Oaks
Any sort of problem with roofing, plumbing, washing machines, and dishwashers is likely to cause enough dampness to require water damage repairs.  And where there's more than a few square feed of wet carpet it's very likely that enough water has soaked into the structure to cause deterioration such as warped and decaying wood for weeks to come.  But immediate expert water restoration brings that to a complete halt in just a few days, keeping water damage repairs in your Thousand Oaks home or business to an absolute minimum.
As with all our work, we begin with a detailed inspection.  More than just an estimate, we create a plan with tasks, goals, and schedules to dry, dehumidify, and repair.  That typically includes surface water extraction from flooring, walls, and sometimes even ceilings with high-performance vacuum equipment.  We'll then use refrigerant dehumidifiers and other special gear for structural dry out that brings moisture down to safe levels even deep within the structure.  Our crews are also ready for mold and odor removal and repairs as well as upholstery cleaning and carpet cleaning or replacement.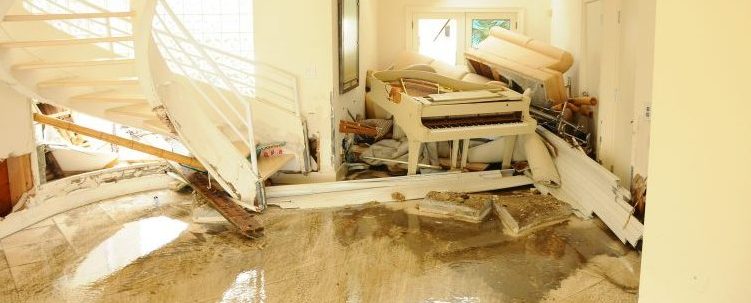 Flood Damage Restoration
Technically anything more than a slow roof or plumbing leak is flooding.  While those call for professional water damage restoration that includes disinfection, sanitation is a much bigger issue with storm and rising water flooding anywhere in Thousand Oaks.  Here water will be teeming with soil bacteria, fungi, and viruses ready to become airborne.  So in addition to water removal, debris removal, cleaning, and drying our flood damage restoration services incorporate isolation and extra cleaning and disinfection measures.  With soaked flooring water will also work its way up inside walls making surface water extraction and building structural dry out all the more important.
Sewage Cleanup
Few things are more disgusting or pose more of a disease hazard than a sewage backup.  So before sewage removal even begins our certified microbial remediation specialists will isolate the affected areas and setup air purification.  If wastes can't be promptly flushed back down the sewer line we'll perform vacuum sewage extraction then follow all requirements applicable in Thousand Oaks for its proper transportation and disposal.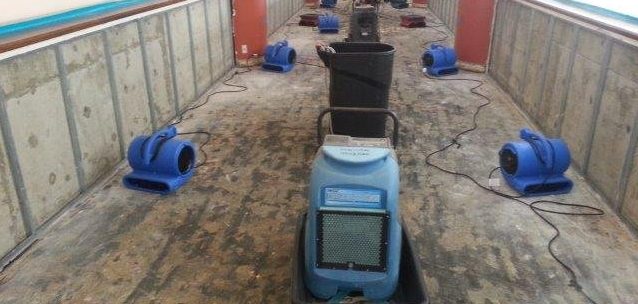 Mold Removal
Mold growth doesn't need light — only moisture — so it loves to grow hidden in crawl spaces, inside walls, under flooring, and above ceilings.  So the biggest part of a problem can be out of sight.  And killing it isn't enough.  That actually triggers its spread by spores, and toxins and allergens remain.
We're a licensed mold removal company, ready to take care of the full mold remediation process.  When our inspection and tests reveal a problem our crews will isolate the work area with plastic sheeting and set up negative-pressure exhaust fans along with HEPA air filters.  Completing spore and mold removal by the best methods for your particular situation we'll seal wastes for transportation and proper disposal.  We'll also dry building materials, apply eco-friendly mildicides, and clean air ducts and nearby areas as further protection against regrowth.
Managing Thousand Oaks CA Disasters
Although safer from extreme weather than many other Southern California areas, within 50 miles of Thousand Oaks there were 116 floods, 38 high-wind episodes, and 30 wildfires reported between the years 1950 and 2010 (usa.com).  Having just been through a catastrophe yourself, you may be interested in volunteering to help others.  You can find opportunities at http://www.volunteermatch.org/.  To discover more about protecting your own family or business from building emergencies and area disasters visit http://www.toaks.org.