30 Years Of Experience. 30 Minute Response Time!
Expert Rancho Santa Margarita, California Water Damage Restoration
Experiencing water damage or mold growth in Rancho Santa Margarita, California?  In all likelihood our flood damage restoration services — including water restoration, mold remediation, and sewage cleanup — will save you money in the long run and get you back to your daily routine sooner.  It really doesn't take that much water to cause big problems, and the longer you wait the longer water, mold, and germs have to cause problems.  The window of opportunity to prevent or minimize secondary damage can be as short as a single day.  That's why our emergency water damage restoration crews are ready 24 hours a day 365 days a year for residential and commercial work, and can be at your Santa Margarita home or business in just 30 minutes.
Regal Restoration Masters, Simi Valley's Choice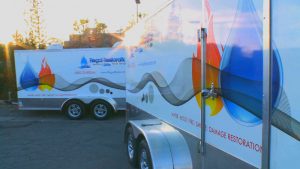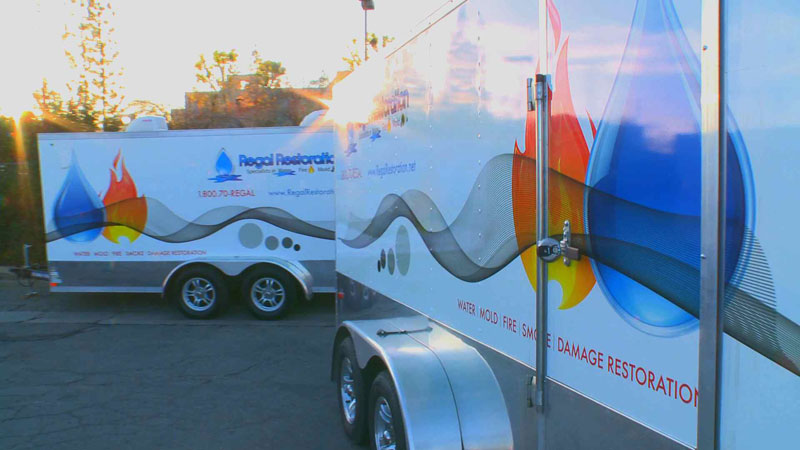 In business since 1989 we bring decades of experience together with the latest in flood restoration equipment and certified technicians.  We're Rancho Santa Margarita's professional water damage restoration specialists.  Independently owned and operated we pay immaculate attention to ever detail in prevention, cleaning, disinfection, and restoration to pre-loss condition.  We'll work directly with your insurance company, taking that load off our shoulders and applying our experience for faster and smoother claims processing.
All insurance companies accepted!
Flood Damage and Water Damage Restoration in Rancho Santa Margarita
Following the ANSI/IICRC S500 standard and R500 guide (https://www.iicrc.org/standards/iicrc-s500/) our goal is to minimize flood damage through rapid drying and dehumidification of buildings, crawl spaces, and basements.  It doesn't take a large amount of water — anything more than a small area of wet carpet (IICRC "Class 1") — to soak deeply into the structure.  There the natural rate of evaporation in Rancho Santa Margarita (even in the summer) will take weeks to remove it.  But all that time it's promoting mold and bacteria and slowly destroying just about any porous building material.  But we'll get all moisture down to safe levels in just a few days, typically with the following steps.
flood damage inspection and documentation
water removal
emergency cleaning and disinfection by anti-microbial experts, especially important in cases of ground water source flooding
surface water extraction with advanced vacuum equipment for walls and ceilings as well as floors
building structural dry out through dehumidification and ventilation using commercial-grade refrigerant dehumidifiers and specialized blowers
odor removal
debris removal
water damage repairs and reconstruction
Rancho Santa Margarita Mold Remediation
By following ANSI/IICRC S520 (http://www.iicrc.org/standards/iicrc-s520/) and maintaining cutting-edge equipment we assure you of the best services in mold removal at very competitive rates.  We're a licensed toxic mold removal company and follow environmentally safe practices.  Our process begins with a visual inspection along with written and photographic documentation and as needed air and surface testing.  After protecting surrounding areas and setting up HEPA air purification and exhaust, our teams will complete thorough decontamination and spore removal.  In addition to applying non-toxic anti-fungal treatments we can dry the building and provide other mold abatement procedures such as crawl space, carpet, air duct cleaning, and damage repair.  We'll seal all wastes for transport out of your home or business, through Rancho Santa Margarita, and on to proper disposal.
Sewage Backup Cleaning
When you have a sewage backup immediate sewage cleanup and sanitation is the name of the game.  Our certified anti-microbial technicians keep our crews as well as your family or employees safe by taking every reasonable precaution before, during, and after sewage removal.  That means proper ventilation and other procedures, expert and exhaustively detailed cleaning and disinfection, and proper disposal of all wastes.  Everything that has come in direct contact with sewage will be either sterilized or replaced, and we'll neutralize odors in the entire area, if not the entire building.
Rancho Santa Margarita
Everyone regardless of where they live or work are subject to building emergencies such as plumbing failures and fires.  As noted by USA.com, over the 60 years prior to 2011 there were 248 floods and 162 wildfires within 50 miles of the City of Rancho Santa Margarita.  We would be happy to discuss contingency planning with property owners and the many homeowner associations in Rancho Santa Margarita.  We urge residents to check out sites such as the city's http://www.cityofrsm.org/216/Emergency-Management to learn about disaster preparation and then put that knowledge into action.