30 Years Of Experience. 30 Minute Response Time!
Simi Valley, California Flood Damage and Mold Experts
Has your Simi Valley home or business been hit with flooding or a mold problem?  It needs to be taken care of right away — progressive deterioration could make damage repairs much more expensive in just a couple of days.  And in some situations hours count.  Regal is ready 24 hours a day 365 days a year with an exceptionally prompt response time of just 30 minutes.  We're experts in flood damage and water damage restoration (including sewage backup removal) as well as mold remediation.  Whether you're facing a merely annoying or downright overwhelming scene our mitigation and remediation expertise will soon have everything back to normal.
Regal Restoration Masters, Simi Valley's Choice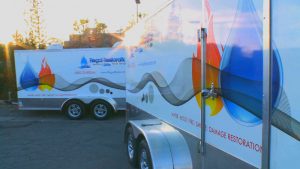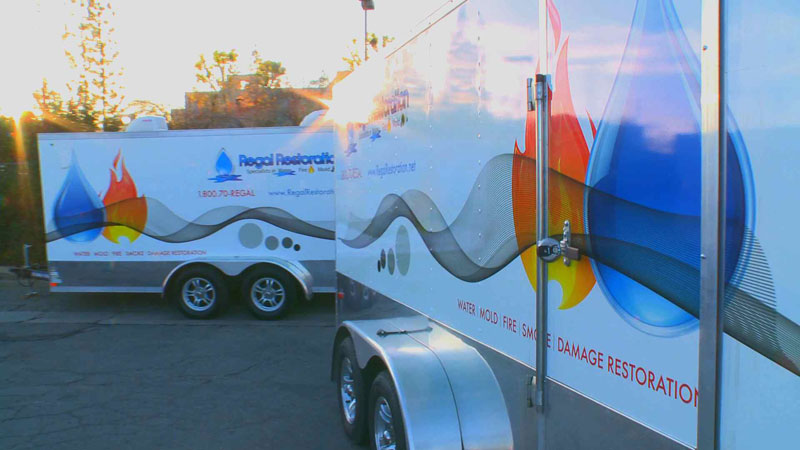 Founded in 1989 we're in our third decade of outstanding service to Simi Valley residential and commercial buildings and their contents.  Full-service water damage specialists, we can take care of everything.  Unlike general-purpose cleaning and contracting services we have technicians certified in cleaning, drying, disinfecting, and other areas of restoration.  They follow time-tested industry best-practices, and we back them up with state of the art equipment and technology such as all-surface water extraction vacuums, commercial refrigerant dehumidifiers, specialized air movers and dryers, HEPA air scrubbers, odor neutralizing equipment, and professional moisture meters.  All together they recover more belongings and stop further destruction in its tracks for a fast return to pre-loss condition.
Insurance Claims
We accept all insurance companies.  To avoid delays and financial stress for you, we'll bill your insurer directly and can even help with the deductible.  Regal also works directly with your insurance company, assuring that all required mitigation steps are taken and that all documentation is provided in a timely matter.  So that's another load off your shoulders.  Most water damage restoration and mold remediation is covered by insurance, but natural flooding is not included in standard policies.  If your losses aren't covered you'll get the same Regal premium services at our competitive rates.
All insurance companies accepted!
Flood Damage Restoration
It takes far less "flooding" than most people think.  Just a small amount of water soaks through carpeting and in to the sub floor, and by IICRC guidelines (www.iicrc.org) anything more than a small area of wet carpet means trouble:  water making its way upwards in walls as well as into the structure itself.  At natural rates of evaporation in Simi Valley that's likely to take several weeks to be fully gone.  But it will be causing progressive damage all during that time.  Our water damage specialists and advance equipment cuts that down to just a few days.
Flash floods and rising-water bring additional hazards.  Any ground water source will be teeming with soil bacteria, fungi, and viruses.  Many are disease-causing and easily become airborne.  So our flood damage restoration service team includes sanitation specialists along with the debris removal and repair crews you'd expect.
Water Damage Restoration
Starting in as little as 24 hours dampness can lead to a mold outbreak, warping wood, and disintegrating drywall.  Proper mitigation can prevent most or all of that, and insurance companies have specific requirements for such damage to qualify for coverage.  So our professional water damage restoration focus is on prevention, to save you money and get you back into your daily routine as soon as possible.
Regardless of the source of water — a leaking roof, a burst washing machine hose, fire suppression, or a winter storm — our basic steps of water restoration remain much the same.
Surface drying through water extraction. This immediately helps building surface materials such as drywall and lowers indoor humidity for faster further drying.  Our gear removes as much as twice the water as competitive equipment.
Building structural dry out.  To get moisture deep within the structure back down to safe levels quickly enough we deploy high-capacity air movers, refrigerant dehumidifiers, and specialized drying equipment.  Rather than relying on indoor humidity readings we directly measure moisture in various materials and locations so we'll know exactly what adjustments to make for the fastest and most thorough structural dry out.
Disinfection and odor removal to remediate mold and bacterial growth.
Water damage repairs such as replacing carpeting and drywall.  Although with immediate response we can often rescue wet carpet.
Mold Removal
Mold growth doesn't require light — just moisture and something to eat (like your home and furniture!).  The need for mold remediation has become more common due to two factors.  First, today's homes are built "tighter" so dampness and humidity are more likely to become trapped.  Secondly, the health effect of toxins released by certain species (not just black mold) as well as other airborne contaminants are better understood.  Keep in mind that the largest part of the outbreak can be completely hidden behind cabinetry, inside walls, under flooring, within crawl spaces, and so on.  So if you spot fuzzy blotches, notice a musty odor, or experience prolonged irritations or flu-like symptoms it's time to call in an expert.
We're a licensed mold removal contractor and offer a free visual inspection.  If there appears to be a problem we can take care of it, following IICRC, EPA, and OSHA procedures.  The basic steps are
detailed inspection, often involving surface and indoor air testing as well as documentation for insurance claims,
preventing the spread of contamination and the mold itself by installing isolation barriers, scrubbers for air purification, and negative air pressure exhaust,
thorough mold and spore removal,
decontamination of surrounding areas and applying non-toxic anti-fungal treatments to further guard against re-growth, and
mold damage repairs such as replacing drywall or other damaged materials.
Sewage Cleanup
Cleaning after a sewage backup is an unpleasant and unsanitary mess.  And nothing you should tackle yourself.  Proper sewage damage cleanup requires worker protection and guarding against the spread of airborne pathogens.  If sewage removal can't be accomplished by sending wastes back down the drain then sewage extraction also involves transporting and disposing of wastes according to all regulations applicable in Simi Valley.  Needless to say disinfection must be absolutely thorough.  In fact, anything that came in direct contact must be removed and either heat sterilized or thrown away.
Contents Cleaning, Repair, and Reconstruction
In addition to caring for the building itself, our certified cleaning and restoration technicians can take care of furniture and other possessions as well.  We're specialists in carpet, rugs, and upholstery and able to recover more than many clients expected.  We'll leave everything clean, hygienic, and odor-free.
Be Prepared in Simi Valley
For the 60-year period ending in 2010 there were 30 wildfires, 54 high wind events, 129 floods, and 107 other extreme weather events (http://www.usa.com/simi-valley-ca-natural-disasters-extremes.htm) within 50 miles of the city.  Simi Valley will continue to experience winter storms, wildfires, earthquakes, and other natural disasters and there's always opportunities for home and business building emergencies.  So it's always a good time to prepare for the future.  You can find information and links to resources at the website http://www.ci.simi-valley.ca.us/index.aspx?page=110, including signing up for VCalerts for your mobile devices.