Professional Water Damage Restoration Pomona, California
Is your  home or business in Pomona, Califorina in trouble?  If you need water damage restoration Regal Restoration Masters is ready with 24 hour emergency flood services that include drying, water damage repair, sewage cleanup, and mold remediation.  Don't make the mistake of thinking that leaks or minor spills aren't an issue.  With anything more than a few square feet soaked simple mopping, wet shop-vacs, and carpet cleaners still leave you at risk for mold, warping or even rotting wood, and damaged drywall.  And that can get started in as little as 24 hours, so time is critical.
Regal Restoration Masters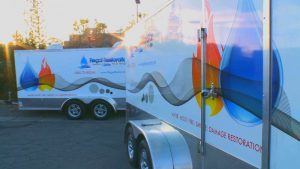 We've been in business for some 30 years, providing superior services at reasonable rates to residential and commercial clients in Pomona and beyond.  When you call we'll be there within 30 minutes with the latest in advanced equipment and highly trained technicians for the quickest and best results.  Our professional water damage restoration services provide a little peace of mind in getting through a difficult time, taking care of everything from assessment to cleanup and haul away.  And we recognize that seemingly common items may have significant personal or business value.
Independently owned and operated, we're fully licensed and insured.  Key tasks are performed by our certified water damage specialists.  Experienced and highly trained, they'll have an arsenal of state-of-the-art equipment to get the job done properly and efficiently.
Regal accepts all insurance companies, and will work with your insurer directly so you won't be caught in an often frustrating go-between situation.  We'll bill them directly, and provide all requested estimates and detailed documentation in a timely manner.  Preventable further damage won't be covered, so we'll also make sure to take all their required mitigation steps.
30 Years Of Experience. 30 Minute Response Time!
Flood Damage
It doesn't take much water to cause significant damage.  That's because it quickly soaks into building surfaces and then into framing, insulation, and other parts of the structure.  Even though surfaces may feel dry to the touch deep-down moisture can remain for weeks, even during a Pomona summer.  That can lead to mold as well as progressive (and often hidden) damage such as disintegrating drywall and warping (or even rotting) wood.  Our flood damage restoration services will take care of the building and its contents.  Trouble can start in as little as a day, so there's a short window of opportunity to do things right and keep water damage repairs to a minimum.
Water Damage Restoration
Our professional water damage restoration combines expertise and equipment that ordinary contractors and cleaning companies simply don't have.  Our technicians are certified in cleaning and restoration have an arsenal of commercial-grade blowers, refrigerant dehumidifiers, water extraction vacuums, air scrubber, and odor neutralizers ready for completing the job in the best way possible.
It all starts with an inspection and measurements with electronic moisture meters.  A water damage specialist will document causes and conditions then create a checklist of goals and schedules.  Technicians will then dry and dehumidify the building, starting with surface water extraction from walls, ceilings, and sub-flooring — not just floor coverings.  That lowers indoor air humidity.  An array of equipment then keeps that humidity low for fast structural dry out, pulling out every last bit of excess moisture.  What takes mother nature several weeks gets accomplished in just a few days.  Our specialists are also experts in treating rugs, carpeting, and upholstery as well.  We'll leave everything clean and safe, odor free, and looking like new.
Contaminated Water and Sewage Backups
Any contamination requires extra attention to cleaning and disinfection.  Even water straight from plumbing (IICRC Category 1, https://www.iicrc.org/standards/iicrc-s500/) becomes a health hazard after about 24 hours.  "Grey" water such as from a bath tub, dishwasher, or clothes washer is IICRC Category 2.  It's no surprise that a sewage backup is the worst, Category 3.  But flood waters that have been in contact with the ground are also a Category 3 biohazard, calling for worker protective clothing and equipment, and our microbial remediation specialists.
Sewage cleanup requires extreme measures such as isolating the affected area (bacteria and viruses easily become airborne) and disposing of all materials that came into direct contact with sewage if they can't be heat-sterilized.  And needless to say you'll want our meticulous cleaning, disinfecting, and odor removal.  In Pomona, as elsewhere, our sewage removal service follows all regulations regarding the handling, transportation, and disposal of infectious wastes.
Mold Remediation
It doesn't need light to grow, so you could have a mold problem much worse than any discolored blotches you might see.  This fungus family actually likes to grow in dark places such as crawl spaces, attics, underneath carpet, and inside walls.  Besides irritants and allergens many species (not just black mold) also release mycotoxins that can lead to very serious health conditions.  Children and the elderly are particularly susceptible.
Handling mold removal yourself leaves you with a high risk of regrowth, not to mention exposes you to significant health hazards.  The EPA has detailed guidelines for mold remediation (https://www.epa.gov/mold/mold-cleanup-your-home) and urges hiring a licensed mold removal company for all but the smallest problems.
We have the equipment and training that homeowners and business owners don't, including micro-scale air filters, HEPA vacuums, specially designed exhaust fans, and odor removal equipment.  After isolating the area and setting up air purification, our licensed specialists will perform complete spore and mold decontamination.  As needed we'll also perform carpet cleaning, air duct cleaning, and odor neutralization.
Tornadoes in Pomona
There has actually been a killer tornado in Pomona, and not that long ago.  Back in 1978 the Whippoorwill, a replica steamboat, was out on the lake with dinner-show passengers.  A tornado caused it to capsize, leaving 16 dead (http://cjonline.com/stories/061708/loc_291741893.shtml#.WDh60LnjV_A).  More recently (2015) a tornado cut a 1/4 to 1/2 mile wide through Pomona for 7 to 10 miles damaging a church, 2 stores, and 14 homes.